Discover Nepal's renowned Himalayan treks, offering a wide range of options for adventurers of all levels. From lengthy and challenging trails to shorter, more accessible routes, Nepal has it all. For novice trekkers seeking a peaceful and picturesque experience, the Mardi Himal Trek is an excellent choice. This enchanting trail takes you through exotic natural landscapes and vibrant ecosystems, providing a serene escape from urban life. In just a few days, you can immerse yourself in the beauty and tranquility of the Mardi Himal region, uncovering a hidden side of Nepal nestled within the captivating forests of the Annapurna region. Experience a short and rewarding trek that leaves a lasting impression.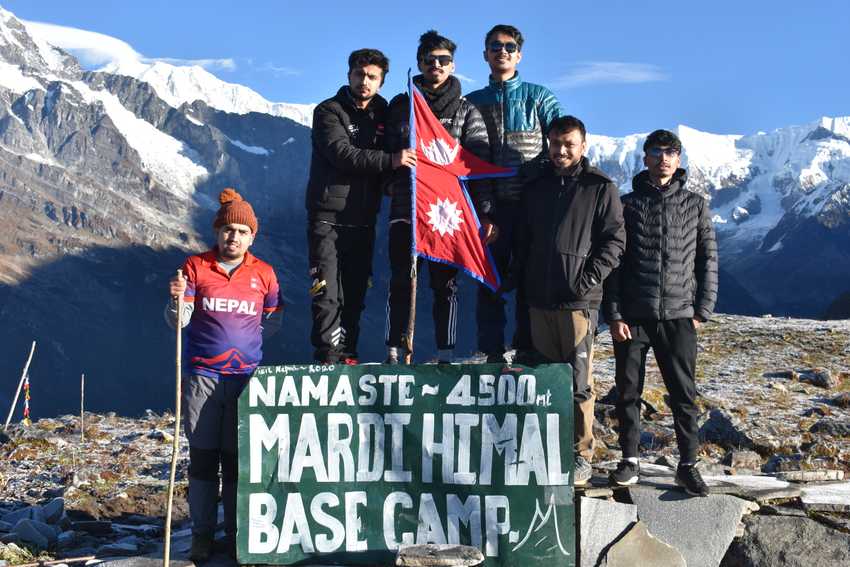 In this blog, we will cover everything you need to know about Mardi Himal Base Camp Trek, a popular trekking destination in Nepal for 2023. From the itinerary to helpful tips and a list of things to experience during the trip, we've got you covered. Be sure to read the complete blog to make the most out of your Mardi Himal Base Camp Trek experience.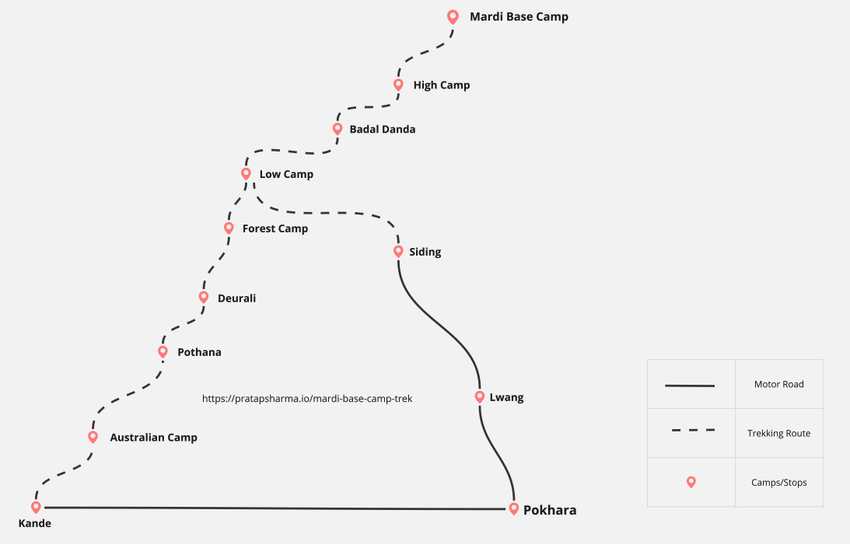 Highlights of the trek
Stunning panoramic views of the Annapurna and Dhaulagiri ranges
Marvel at the awe-inspiring panoramic vistas of Mount Machhapuchhre (6993m), Annapurna (8091m), and Mardi (5587m) during your trek
Embark on a trekking adventure through natural, unspoiled trails
Witness stunning sunrise and sunset views from Mardi Base Camp (4500m)
Immerse yourself in the warm hospitality of the locals and explore their unique culture during your trek
Location and Altitude of the trek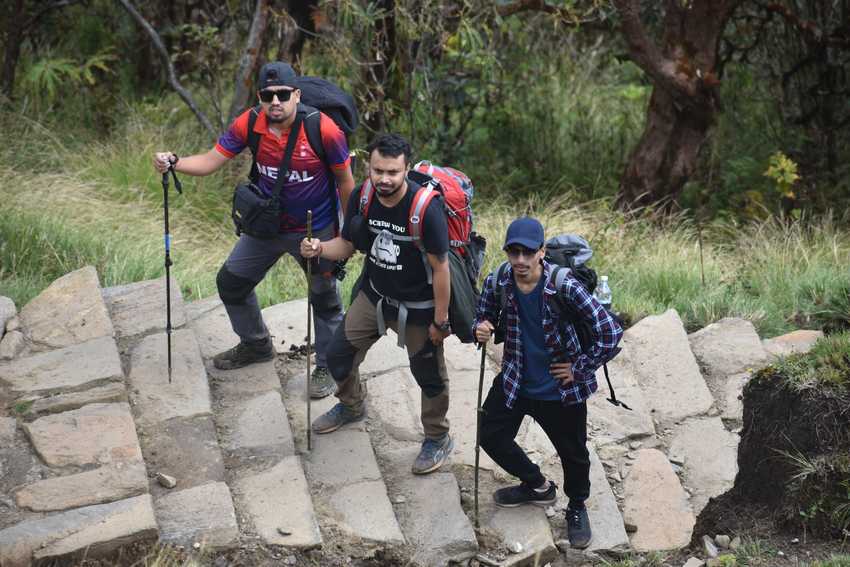 Mardi Himal offers two base camps, with Mardi Himal Base Camp West located along the Mardi Himal Trek at an altitude of 4,500m (14,763 ft). Many trekkers opt to visit the viewpoint located just below Base Camp, which stands at 4,200m (13,779 ft). But we decided to visit the Base Camp which is located at 4500m.
Is a guide required to go to Mardi Base Camp trek?
More frequently, many trekkers are visiting the base camp, we won't be needing a guide to go to Mardi Base Camp trek.
How difficult is the Mardi Base Camp trek route?
The trek is a relatively moderate trekking route. The route mostly goes through grasslands and small hills. It has a maximum elevation of 4500m. A moderately challenging adventure that takes trekkers to an altitude of 4500m/14763ft. Experience rocky terrains, diverse landscapes, and steep ascents and descents throughout the journey. While prior hiking experience is beneficial, it is not mandatory, as long as trekkers possess the required fitness and stamina. Altitude-related problems are not significant concerns on this trek, thanks to proper acclimatization, staying hydrated, and consuming ample untreated food. Enjoy a comfortable and rewarding journey amidst stunning surroundings.
Itinerary
Day 1
Bus ride to Kande:
We started our trek by taking a 45-minute drive from Pokhara (Hari Chowk) to Kande. We had a delicious breakfast in Kande before embarking on our trek. Our arrival in Kande was around 7:30 in the morning.
Trek to Forest Camp(3245m):
After enjoying a satisfying breakfast, we commenced our trek on the first day with the goal of reaching Forest Camp. Along the way to Forest Camp, we traversed through picturesque locations such as Australian Camp, Pothana, and Pitam Deurali. We took a well-deserved break for lunch at Pothana, pausing for approximately 30-45 minutes before resuming our journey towards Forest Camp.
Night Stay at Forest Camp:
After a challenging trek lasting nearly 7 hours, we arrived at Forest Camp around 6:00 pm in the evening. We were exhausted from the day's journey, and we decided to rest for the night at Hotel Rhythm in Forest Camp. It provided us with a comfortable and relaxing place to rejuvenate after a tiring day on the trail.
We paid Rs 1400 for the package. The package includes stay, dinner and breakfast.
Day 2
Trek to High Camp:
After a quick breakfast at the teahouse, we embarked on our trek to High Camp early in the morning. With our group of six energetic guys, we aimed to reach High Camp by evening. Along the way, we passed through Rest Camp and Low Camp, where fellow trekkers starting from Siding joined us. We took a break for lunch at Badal Danda, pausing for approximately 30-45 minutes. Following our meal, we resumed our trek towards High Camp.
By 4:00 pm in the evening, we successfully reached High Camp. We promptly booked a lodge, stored our belongings, and ventured outside to soak in the breathtaking views of the Annapurna Range and Machhapuchhre. The majestic scenery around us filled us with awe and wonder.
Night Stay at High Camp:
After a long day of trekking, spanning approximately 6-7 hours, we made arrangements to spend the night at High Camp. We secured a lodge at Hotel Snowland, High Camp, ensuring a comfortable resting place. With the next day's early start in mind, we opted to have dinner and retire early. This allowed us to recharge and prepare ourselves for the upcoming trekking adventure.
Day 3
Early morning hike to Mardi Base Camp(4500m):
With the goal of witnessing the breathtaking sunrise from the base camp, we embarked on our hike towards Mardi Base Camp at a remarkable 3:00 am. The early start was necessary to ensure we didn't miss this spectacular sight. After a trek of approximately 3 hours and 30 minutes, we reached Mardi Base Camp around 6:00 am. Along the way to High Camp, we also passed by the mesmerizing Mardi Himal View Point. For trekkers who were unable to make it to the Base Camp, the View Point offered an opportunity to soak in the awe-inspiring sunrise and stunning vistas before returning. If you're curious about how the Base Camp looks, the video above captures its beauty.
We spent around 1 hour and 30 minutes at the Base Camp, relishing the experience, and then decided to hike back to High Camp.
Hike back to High Camp
After an incredible 1 hour and 30 minutes at the Base Camp, we began our hike back to High Camp. We gathered our belongings, had a hearty breakfast, and by approximately 11:00 am, we set off on our trek back to Siding.
Trek down to Low Camp and then to Siding
Due to our plans to celebrate the festival with our families, we had to make a decision to skip staying at Low Camp and trek down to Siding instead. After taking a brief break at Low Camp, we continued our descent towards Siding. The route from Low Camp to Siding was steep and downhill, adding to the challenge after three days of trekking. It took us approximately 3 hours to reach Siding from Low Camp.
Drive back to Pokhara
Upon reaching Siding, we began searching for a jeep to take us back to Pokhara. After a considerable amount of trekking, we finally managed to find a jeep. Despite its limited capacity, we squeezed in with 12 passengers and embarked on the journey back to Pokhara.
Budget
Budget: Rs 6000
Pokhara - Kande: Rs100
Breakfast: Rs 100-200
Lunch @Pothana: Rs 400(veg) Rs 600(non-veg)
Stay package at Forest Camp: Rs 1400
Lunch @Badal Danda: Rs 600(veg)
Stay package at High Camp: Rs 1800
(Return) Lunch/Snacks at Low Camp: Rs 400
Siding - Pokhara: Rs 700
Helpful Contacts
For more details contact:
Hotel Rhythm, Forest Camp
Khem Gurung : 9867359930
Hotel Moonlight, Low Camp
Khem Chhetri: 9819119919 / 9864890052
Hotel Snowland, High Camp
Rabindra Poudel: 9867602056 / 9846855746
Gallery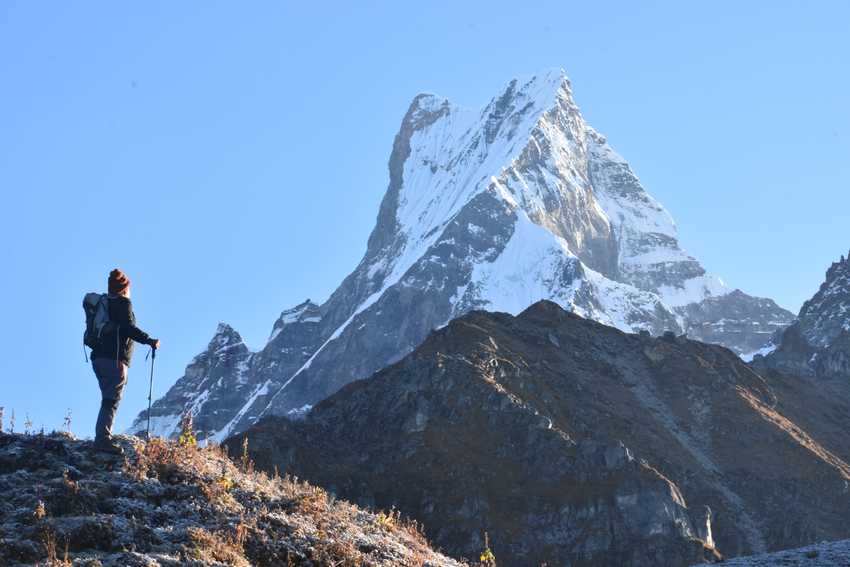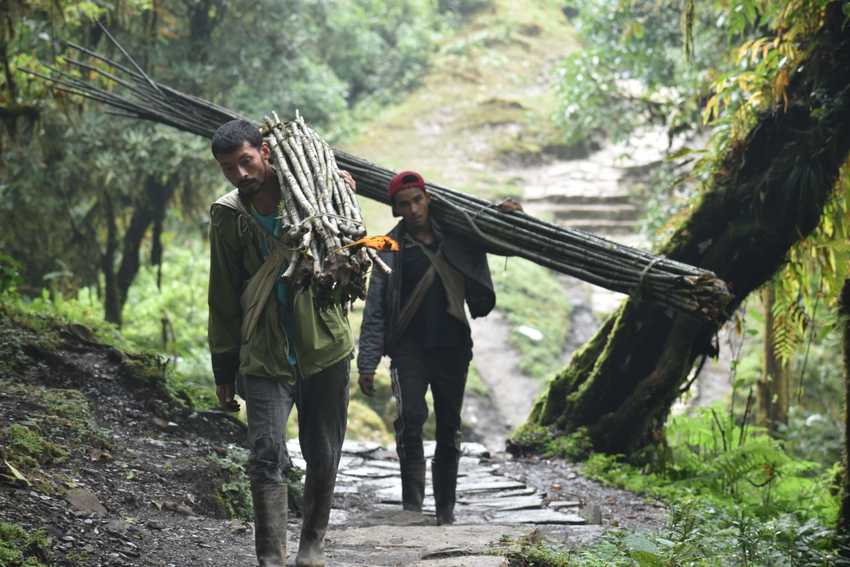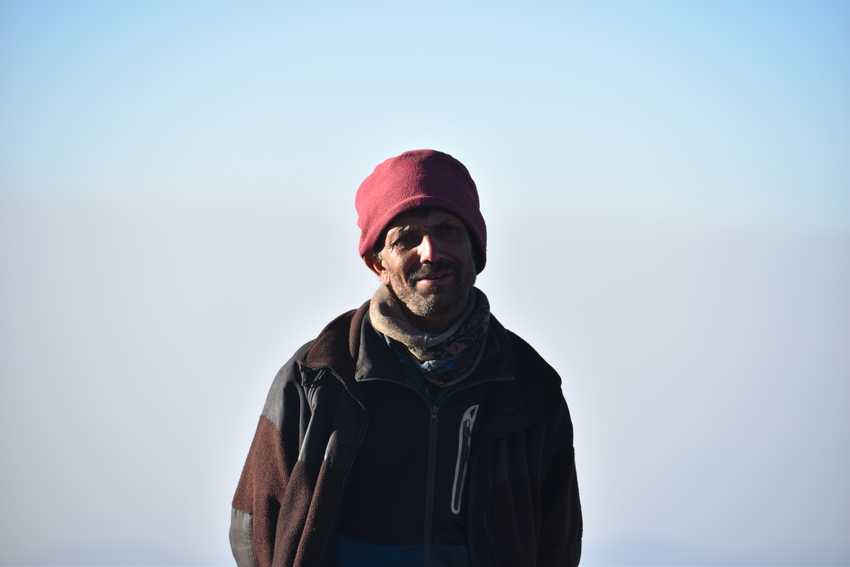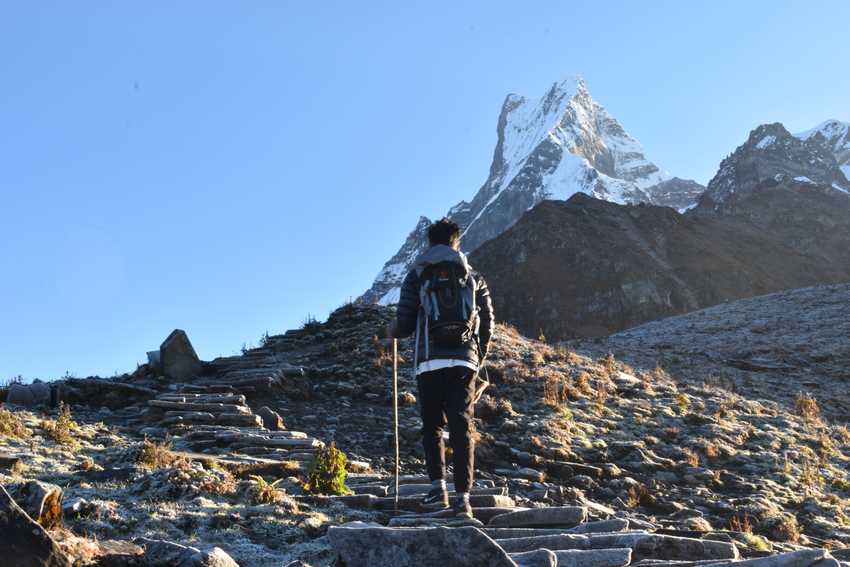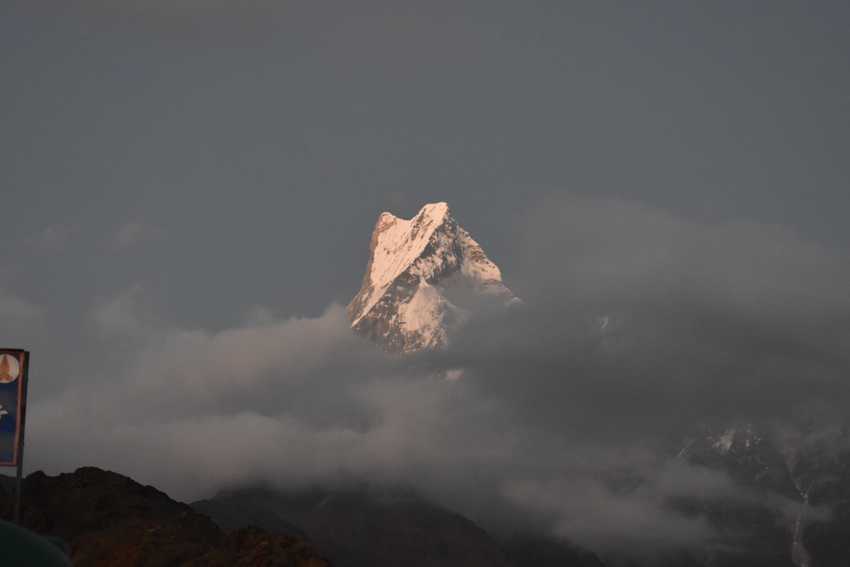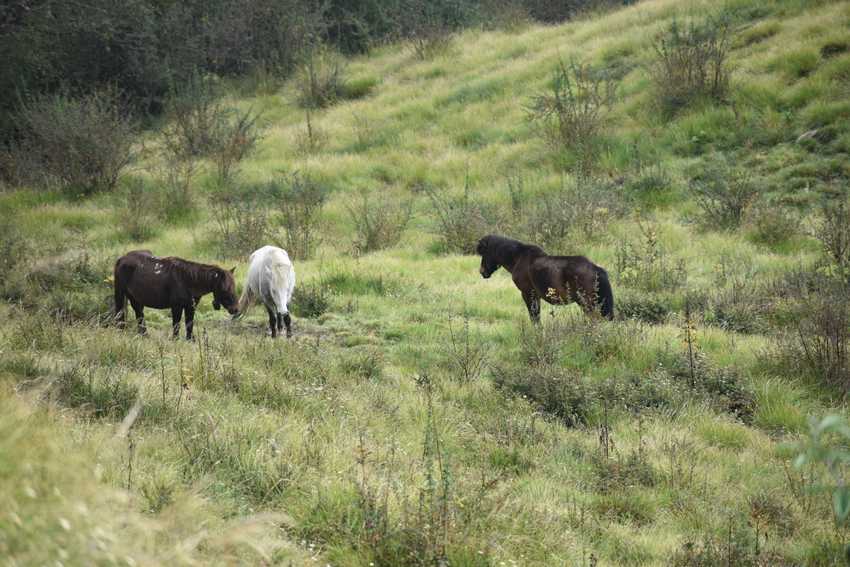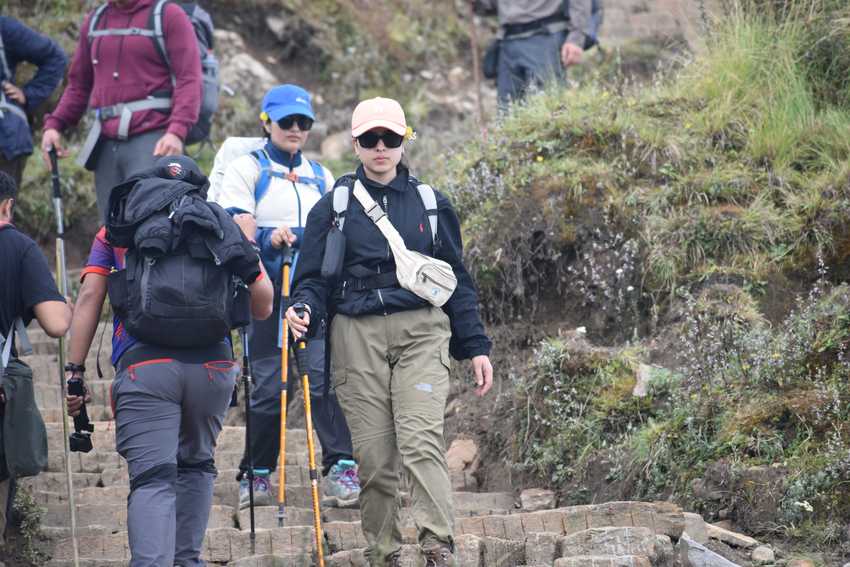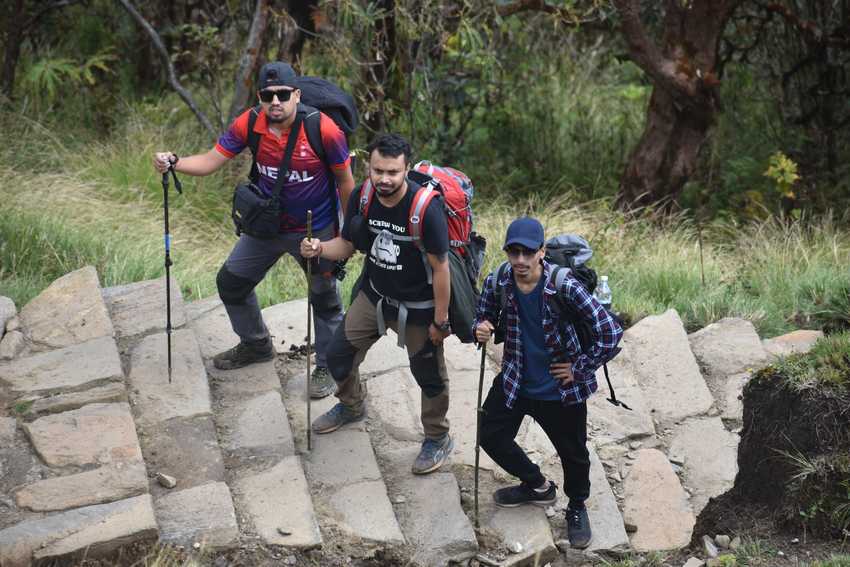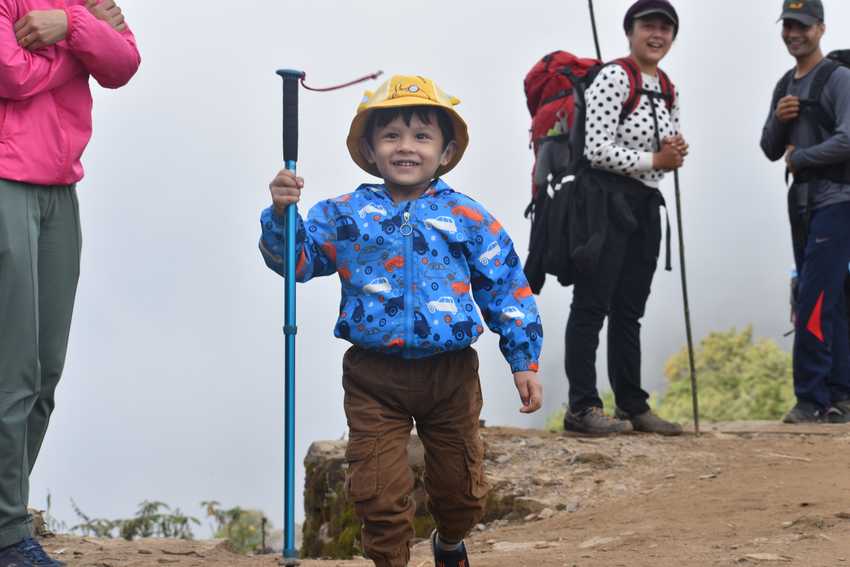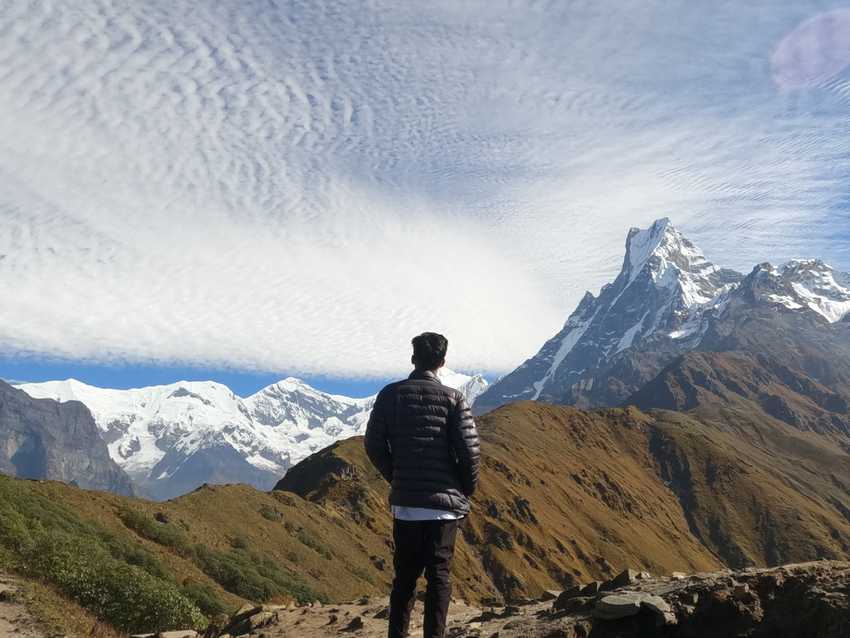 Trekkers
Checkout Vlogs
If you would like to have a well-managed Mardi Base Camp trek with professional guides, you can contact us for further details.